UX Workshop for Product Managers with Natali Gil
4 online sessions of theory and practice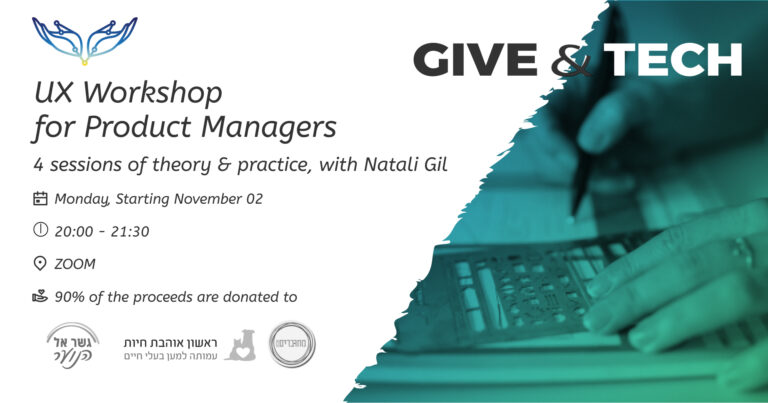 UX has become an essential part of building digital products. Interface design tools, such as Figma, provide greater accessibility for product managers to become more involved in the workflow.
In the workshop, we will dive into the daily work processes of product designers.
What will you learn?
Intro to UX work methodologies.
Practical methods that will allow you to be more involved in the work process of the product designers and a better understanding of the outcomes.
You will be able to run user research and usability testing.
Starting date 02.11.2020, every Monday until (including) 23.11.2020 between 20:00-21:30.
Additional details will be sent after registration.
The workshop will be held in Hebrew
The sessions will be recorded and available offline for the participants
This is an online program using zoom
90% of the proceeds are donated to nonprofit organizations
The other 10% helps us expand our activity
Got Questions? We've Got Answers
Product Managers, but not just!
Also for Entrepreneurs and whoever wants to be more engaged in the UX work process.
All course lectures, practice sessions and panels will be held in Hebrew only.
The sessions will be recorded and available for you to watch offline.
4 sessions of 1.5h on Zoom.
Each session will include a theoretical + examples + home assignment, that one of the participants will present in the next session.