Useful Tips for Becoming a Successful
Product Marketing Manager
One of the most recognizable trends in recent years is the rise of Product Marketing. Companies began noticing a growing gap in the intersection between products and how their value is communicated outward, so demand for Product marketers is higher than ever. 
While the definition of a Product Marketing Manager (PMM) role can differ in each company, the basics of becoming a successful PMM stay the same.
We'll be exploring what product marketing is, how to become one, and what tips you can use to ensure success in this newly growing field.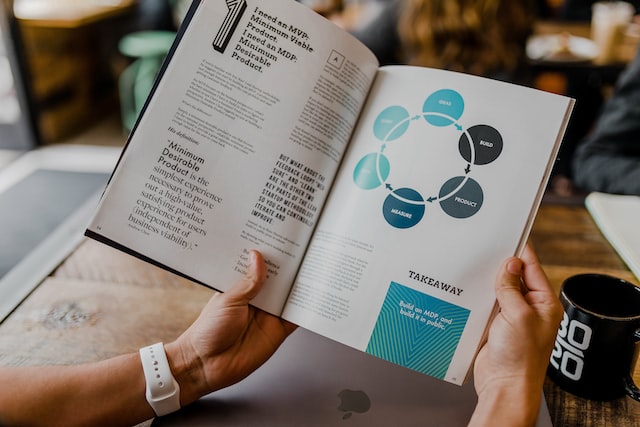 What Is Product Marketing?
Product Marketing is where product, sales, and marketing come together. Once the company releases a new feature, the PMM's job is to communicate the unique values of this release in a meaningful way to the relevant audiences. The responsibilities of a PMM could be to conduct market research, analyze the competitive land space, design and execute campaigns and structure the messaging and positioning of the product. 
As the name suggests, product marketing establishes the best way to market the product after the initial release. But the work of the PMM doesn't stop there. In some companies, the product marketing department helps demo the product to new prospects and leads the creation of case studies.
How to Become a Product Marketing Manager?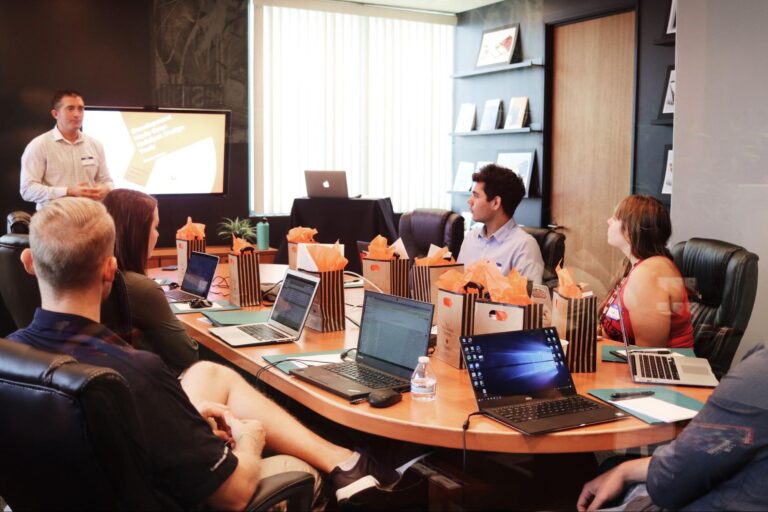 Gain Experience in relevant fields
The product marketing manager plays a vital role in the company's overall go-to-market strategy. That is why the individual must have a solid understanding of product operations and marketing tactics. Gaining experience in digital marketing or social media management can help you get familiar with the marketing world. On the other hand, being a product owner will deepen your knowledge of the product development cycle. Having experience in at least one-half of product marketing will ease your way into this field.
Develop the right skills.
Communications
the main job of the PMM is to communicate the product well to its target audience. Depending on the context, a good PMM can adjust his tone and content to deliver his message effectively, whether writing copy for the company's website or writing a more technical blog post about a new feature.
Creativity
As both the product and the market change, you will have to constantly adapt and generate new ideas, whether for marketing campaigns or press releases. In addition, different distribution mediums will require different approaches. You might need to write an extensive post for LinkedIn, but later that week, you must tap into your visual senses to create a beautiful infographic for Pinterest or Facebook. 
Analytical skills
Product marketers must check out the analytics after publishing any marketing campaign to see how the campaign performed. They may need to mess with the data to understand how different age groups reacted to the ad or extract valuable insight about the mobile click vs. desktop. Very often, an A/B testing process is involved, which allows experimenting with multiple variations of the same campaign. Product marketer must have a technical affinity to analyze these data sources skillfully.  
Less but not least, make sure your hang around like-minded people. It could be going to meetups of marketing-related groups or just following and reacting to industry leaders on social media. Whatever way you choose, get in touch with other mentors, colleagues, and other knowledgeable individuals to stay up to date with current trends, learn more about the field, and contribute back.
5 Tips for being a successful PMM
Now that you know what product marketing is and how to make progress toward becoming one, here are a few tips that separate the good PMMs, from the best: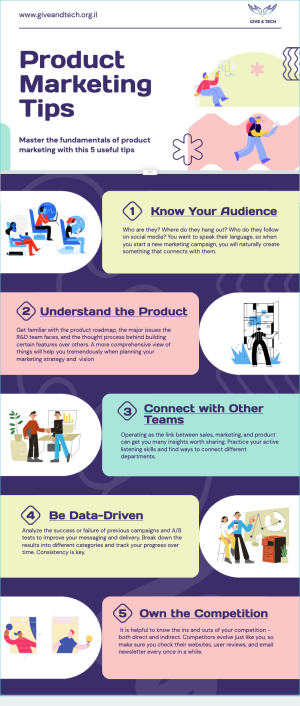 This might be the most important tip here. Because your job will be to market the product well, you must know everything about your target audience. Who are they? Where do they hang out? Who do they follow on social media? You want to speak their language, so when you start a new marketing campaign, you will naturally create something that connects with them.
2. Understand the product
This can go without saying, but understanding the product doesn't mean memorizing all the features. It's much more than that. You'll have to know the product roadmap, the major issues the R&D team faces, and the thought process behind building certain features over others. A more comprehensive view of things will help you tremendously when planning your marketing strategy and vision, and it even comes in handy when you write things like the FAQ section for the website.
3. Connect with other teams
Operating as the link between sales, marketing, and product can get you many insights worth sharing. Because of your deep product and market knowledge, you can help account managers empathize the right features when delivering a demo. The sales team can also have some useful feedback from potential clients that you can then share with the R&D teams.
When marketers create a new campaign, it's mostly a hunch mixed with some knowledge about the industry. But those who come back to analyze the success or failure of previous attempts are the ones who learn the most. A/B test, break down your data into different categories and track your progress over time to improve your messaging and delivery.
It is helpful to know the ins and outs of your competition – both direct and indirect. That way, you can easily create a comparison infographic to size your product against the other players in the market. Also, when you join sales demos, you can advise a prospect still trying to figure out the best product available on the market. Competitors evolve just like you, so make sure you check their websites, user reviews, and email newsletter every once in a while.
Product marketing is a new and dynamic field, which is why to be a successful PMM, you must also be adaptable, curious, and willing to learn. By following these tips and continually improving your skills, you can become an outstanding product marketing manager and significantly impact your company's success.