You have decided to change your career. You may have found a new passion or hit a plateau in your current role. Whatever the reason, making a change can initially seem daunting and challenging. But one approach to this transition could significantly improve your chances of success: changing roles within your current company.
Many people don't have this idea in mind. For them, switching roles means quitting, so they immediately start looking for a job elsewhere. But there are several advantages to making this type of career transition internally.
3 Reasons to Change Roles within Your Company
You can learn about the job firsthand
A job is far more than work and salary. Being around great people is not something to take for granted. Your ideal path would consist of preserving most of the things that fit you in your current workplace and finding ways to improve only the missing pieces – currently, your role and responsibilities.
You fit the company's culture
Before jumping into your new career, it could be wise to test your hypothesis first. Your future team members may be sitting in the next room. Ask the people who work in your desired field about their day-to-day or offer some cookies to get a short session where they will dive deeper into their responsibilities.
You are familiar with the industry and tools
Your managers will have a much easier time integrating you into your new team because you are already a part of the company. That means it's possible you are familiar with the industry's competition and best practices, and they won't have to spend precious time and resources teaching you what they would typically expect from a new hire.
5 Steps to Change Your Role within Your Company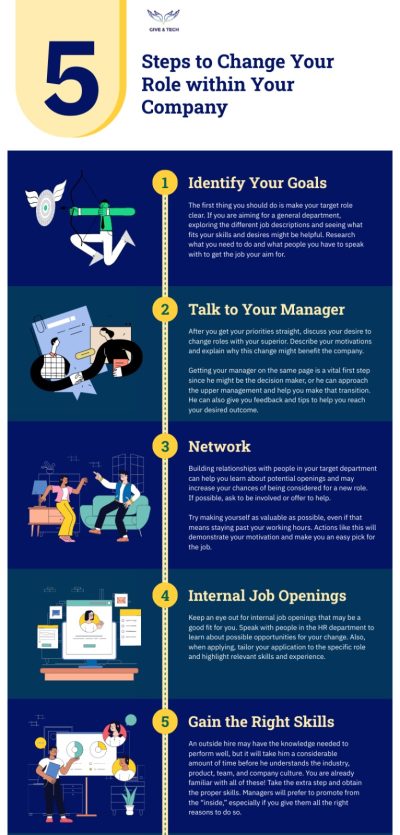 The first thing you should do is make your target role clear. If you are aiming for a general department, exploring the different job descriptions and seeing what fits your skills and desires might be helpful. Research what you need to do and what people you have to speak with to get the job your aim for.
After you get your priorities straight, discuss your desire to change roles with your superior. Describe your motivations and explain why this change might benefit the company. Getting your manager on the same page is a vital first step since he might be the decision maker, or he can approach the upper management and help you make that transition. He can also give you feedback and tips to help you reach your desired outcome.
Building relationships with people in your target department can help you learn about potential openings and may increase your chances of being considered for a new role.
If possible, ask to be involved or offer to help. Try making yourself as valuable as possible, even if that means staying past your working hours. Actions like this will demonstrate your motivation and make you an easy pick for the job.
4. Apply for internal job openings
Keep an eye out for internal job openings that may be a good fit for you. Speak with people in the HR department to learn about possible opportunities for your change. Also, when applying, tailor your application to the specific role and highlight relevant skills and experience.
5. Gain the right skills and knowledge
It's important to mention that passion and networking are not enough. You must become competent in your target field to make yourself the obvious choice for the role. An outside hire may have the knowledge needed to perform well, but it will take him a considerable amount of time before he understands the industry, product, team, and company culture. You are already familiar with all of these! Take the extra step and obtain the proper skills. Managers will prefer to promote from the "inside," especially if you give them all the right reasons to do so.
If you like to learn from the best in your desired field and gain the right skills and knowledge to get the role your want, check out the Give & Tech programs. We bring industry leaders to help you evolve professionally in fields like product management, UX, HR, and many others while also doing good and giving back to society.
Bonus: Tips From A Professional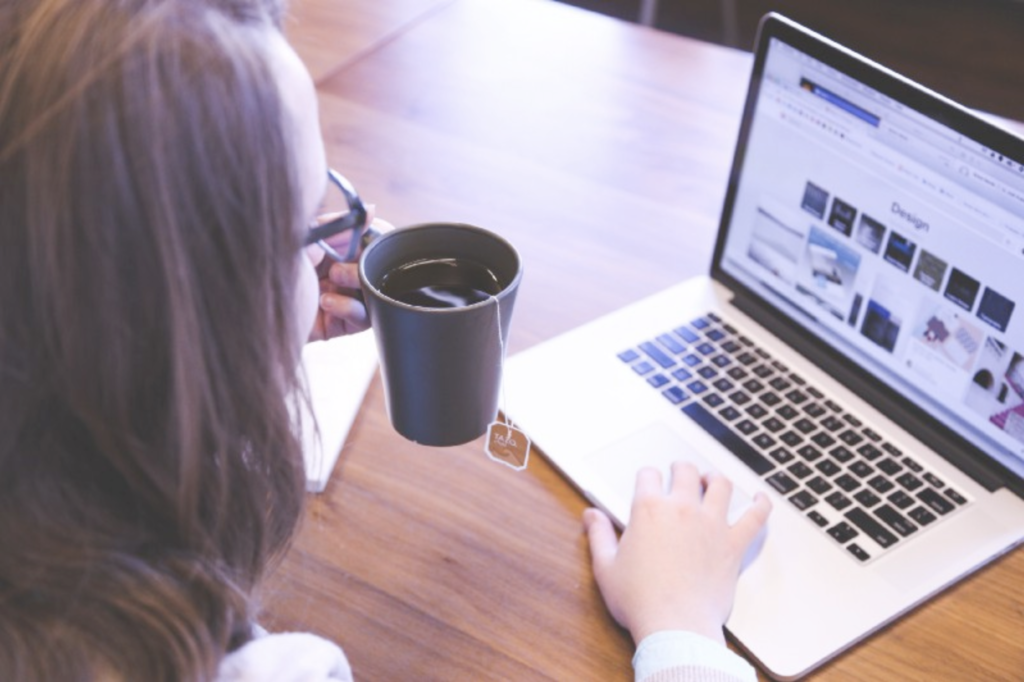 We asked Shiraz Saguy, Personal & Managerial Coach at GrowthSpace, for her thoughts on this subject. Shiraz has a remarkable track record of over 20 years as an HR Manager, Director, and consultant. During this time, she got to be an integral part of many role changes and internal promotions. Here is what she had to say:
"First, it's essential to understand that this process will vary depending on the company and the people within it. 
While larger, more established companies will already have an accepted procedure for role switching, in startups, it's useful to better understand the forces in play before making your request. Are your managers usually supportive and pleasant to talk to? Do they care about employees' personal development? Does the company have a culture of growth? Answering these questions will help you tailor your approach and increase the chances of a successful position change. 
Secondly, realize your managers might make the final decision, but you have to own this process yourself. Look at the situation from their point of view and prepare for possible obstacles. If the company is struggling financially right now, you can show empathy and suggest delaying your move. If you are in a key position, replacing your can be challenging for the business. Offer to help as much as possible in the new hire's requirement and training process. Show that you are a team player and get the people around you to be on your side.

Finally, It's necessary to communicate to HR or your managers what led you to this decision. The desire to change your career path results from an internal process you probably had for a while. Sharing your thoughts and reasons with a supportive manager, with a more comprehensive view of the company and its needs, can lead to more solutions that turn out to be better for you and the company."
Next time you think about altering your career path, explore the options within your current company before looking for a new job elsewhere. Sticking with the same people and technologies can make that change smoother.
To make that transition, commit to learning the relevant skills, communicate effectively with your manager, and remember that this process may vary depending on your goals and the company you are part of.